SPRING 2024
Awaken and Aim True
Yoga and Hot Springs Retreat
FRIDAY, MAY 3rd – SUNDAY, MAY 5th, 2024
EARLY BIRD PRICE: $189 until February 31st, 2024
Includes yoga, sound baths, workshop, and full use of hot springs.
REGULAR PRICE: $239 starts March 1st, 2024
Includes yoga, sound baths, workshop, and full use of hot springs.
Boulder Hot Springs accommodation and meals are separate.
Call Boulder for room and meals reservation. Pay Boulder directly.
5 meals are $120
Food is organic and locally sourced. Please ask Boulder for any dietary requests
Special Boulder Hot Springs room rates are for retreat participants only.
CALL Boulder at 406-225-4339 to reserve.
Guest rooms range from $85 – $160 per night.
Rooms book quickly!
Please note that Boulder Hot Springs is an alcohol and smoke free facility.
This is a quiet, relaxing atmosphere free from the everyday hustle and bustle.
There are no phones or TVs in rooms.
High speed internet service is available.
FALL 2024
Replenish and Aim True
Yoga and Hot Springs Retreat
Friday, October 11th – Sunday, October 13th, 2024
EARLY BIRD $189 (until August 31st, 2024)
Includes yoga, sound baths, workshop, and full use of hot springs.
Boulder Hot Springs accommodation and meals separate.
Special rates for retreat participants.
REGULAR PRICE: $239 (starts September 1st, 2024)
Includes yoga, sound baths, workshop, and full use of hot springs.
Replenish Yourself
Are you feeling tired and ready for something new? Do you have goals you just can't seem to stay motivated to reach no matter how hard you try?
This weekend retreat is time to unplug, replenish, and nourish yourself. Enjoy hot springs, special yoga classes, singing bowls sound baths, and a special workshop "goal getter" vision board session. Awaken, Replenish, Aim True, and be your best self!
This the perfect opportunity to relax, devote time to yourself and your yoga practice, and enjoy the amazing food and magic of Boulder Hot Springs!
All levels welcome!
Limited class size.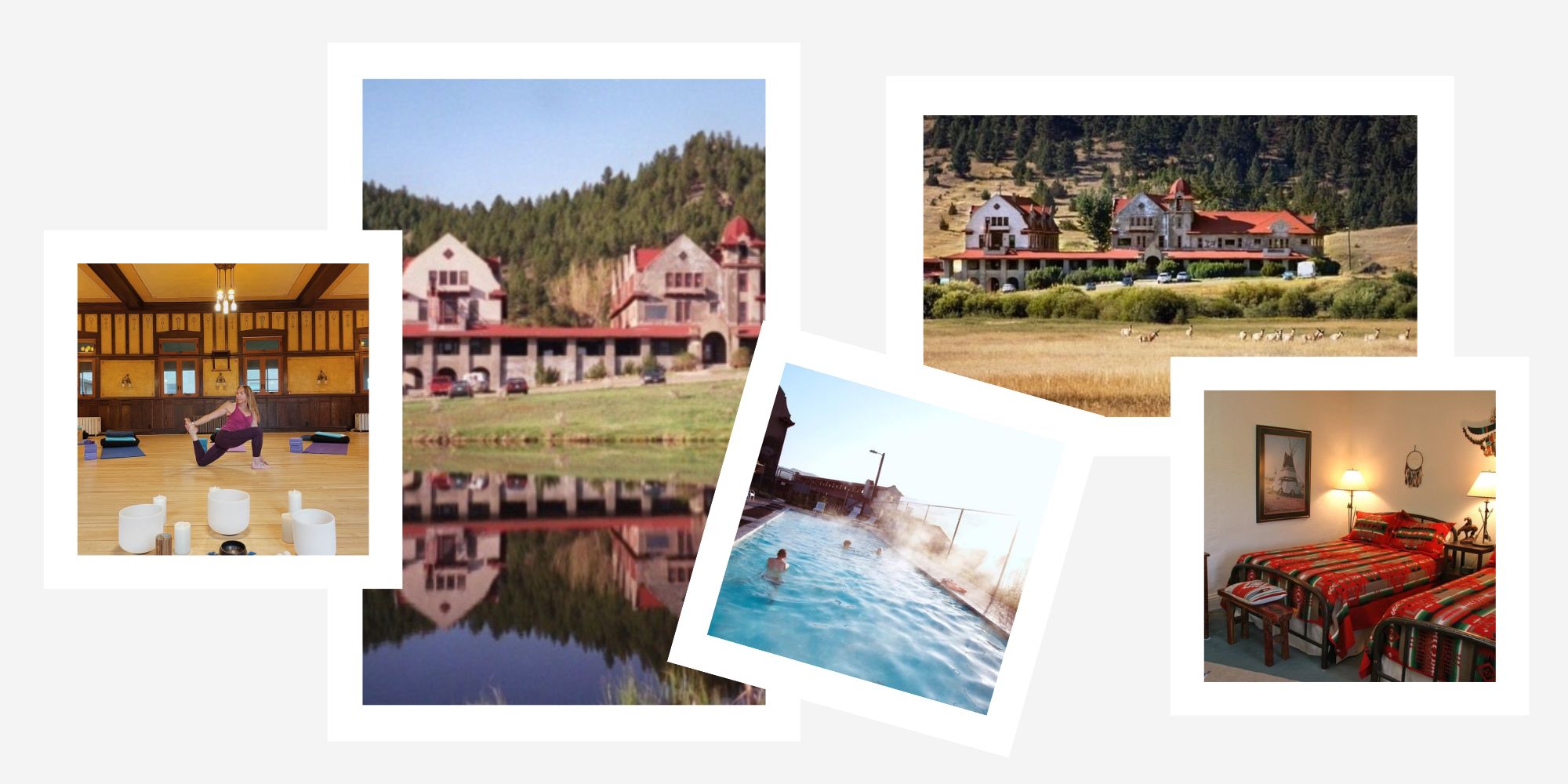 SPRING 2024 YOGA RETREAT DETAILS:
Pay Boulder directly for accommodation and food. Pay Marla directly for yoga classes and workshop which includes use of the special yoga room at Boulder and Marla will bring yoga props — mats, bolsters, blankets, blocks, and straps. Yoga classes will be gentle, for all levels.
$60 deposit to save your spot (goes toward your retreat investment)

EARLY BIRD PRICE: $179 by February 31st, 2024 — Includes: Four special yoga classes, sound baths with crystal singing bowls, and "Goal Getter" vision board workshop with Marla. All yoga props are provided (mat, bolster, blocks, blanket, strap).

REGULAR PRICE: $229 March 1st, 2024 and after.
NO REFUNDS.

Installment plan available.

Accommodation and Meals are priced separately – Call Boulder directly (406) 225-4339 and let them know you are with the MarlaYoga Awaken & Aim True Retreat for special retreat pricing.
Accommodation rates: range from $80 – $120 per night.
5 meals: $120 organic and locally sourced ingredients.
This is a special weekend of yoga to Awaken body, mind and spirit, goal setting to Aim True, and Hot Springs! Get ready to replenish and nourish your well-being to connect with your best self. Grow your vision with a goal-getter vision board session to live the life of your dreams.
ROOMS BOOK QUICKLY! Boulder Hot Springs is also open to the general public and there is limited room availability.
What People are Saying from the 2023 Awaken & Aim True Yoga & Hot Springs Retreat


The retreat was perfect. You planned the right number of activities and time alone. The singing bowls, the various sessions of yoga, goal setting/visioning board, the light hiking and the hot and cold pools were just the ticket to help me transcend to places where my mind and body could contemplate and feel. I was able to slow down, relax and consider what things I need to add or delete in my life. — Karen S.

I loved the experience of the sound baths…I loved the atmosphere in this very unique setting…relaxation, great meals and a schedule that allows for free time. Each yoga session was geared perfect for the time of day. The vision board was really fun, and the Seven Generation sculpture was so inspiring. — Barb L.

It was a really nice place – get away from it all feeling. The people were truly nice, and it was a quiet, calm atmosphere…I really enjoyed the yoga classes and activities. — Pam T.